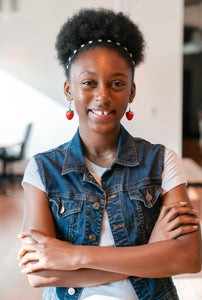 I AM CONFIDENT UNIVERSITY™
Hi, I Am Sumer Strawbree— 14 year old Author, Speaker & Affirmations Authority.
I help girls unleash the power of positive affirmations to improve their self-confidence.
"I Am"... the Most Powerful Statement in the Universe.
As Seen on, ABC, NBC, CBS, FOX & More...
After being bullied, I've independently sold over 10,000 copies of my Affirmations Coloring Books featuring images of Black and Brown girls...10,000 girls inspired.
I teach girls how to unlock their subconscious mind to bring out the SUPERHERO that is already inside of them, through my I Am Confident University™ workshops and books.
SHOP NOW
GIRLS' CONFIDENCE FALLS STARTING AT AGE 8
Reasons Why Girls' Self-Esteem Plummets
Children are born with self-confidence, however, that can be quickly ruined: at school, by family, by close friends or during other experiences where you are unfortunately not there to protect your vulnerable child.
Furthermore, a survey found that teenage girls' mental health are often overlooked by their parents which carries into adulthood.
AFFIRMATIONS FOR CONFIDENCE 
"I Am Loved, I Am Beautiful, I Am Smart"...
Get Started with Black, Brown and Beautiful which features 27 pages of black and brown girl positive imagery and 27 affirmations.
SHOP NOW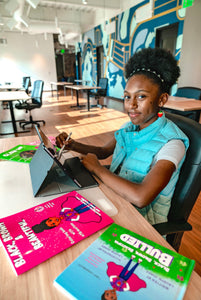 NEW CHILDREN'S PICTURE BOOK
Customer Testimonials Speak for Us
ABC NEWS Live- Washington, D.C. National Appearance
BULLIED AT SCHOOL
...for my long fingers and crooked teeth which I did have. However, that still didn't give them a right to bully me.
Now, I Help Girls Improve Their Self-Confidence Through Positive Affirmations...
Affirmations are used to rewire a person's mind to affirm positive thoughts about themselves until they become second nature. The result is an improved self-confidence in themselves.
YOUR PARENT CONCERN
If you're a parent of a young girl or know a young girl, you're probably hoping that she quickly discovers her self-worth and value before someone defines it for her. It is critical to support and encourage a young girl's abilities and strengths as soon as they are discovered.
If not, you'll face a tough uphill battle that can take years to restore the self-esteem that was snatched from her.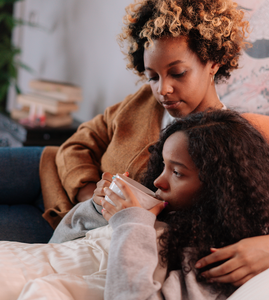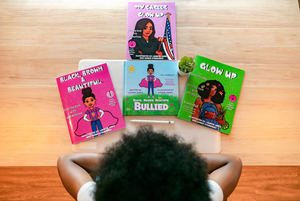 CONFIDENCE BUILDING SOLUTION
Imagine gifting Black, Brown and Beautiful a coloring book with positive affirmations and images to a young girl and the affirmations taking her self-esteem from zero to hero or from hero to super hero over time.
Take the first step to protect a young girls self-esteem by introducing my positive and self-affirming written affirmations from my Best Selling Coloring Book, Black, Brown and Beautiful that can be read aloud daily: Once when waking up and once before bed.
Join the THOUSANDS of girls already on the journey to improved self-confidence and self-esteem.
SHOP NOW
HELP SPREAD THE MESSAGE OF DIVERSITY AND INCLUSION
Bringing the positivity of affirmations to black and brown girls everywhere reminding them that they're beautiful too.
If you believe all girls are fabulous - no matter their shortcomings, no matter how they look or what makes them different - then show your support by gifting a book to a young girl!
Black, Brown & Beautiful makes a heartwarming gift - and is symbolic of your support saying "I believe in you!"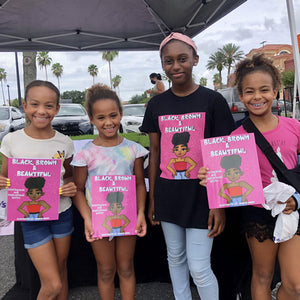 CHAMPIONING MELANTED GIRLS
My coloring book empowers young girls, makes them feel accepted, and builds confidence within them.
They smile because they are smart, talented and confident.
SHOP NOW